Mountain Restaurants
Whether it's to thaw out and refuel when it's snowing a blizzard outside, or to dine al fresco on a sun-drenched terrace whilst lapping up the admirable mountain views, there's no shortage of reliable Vaujany mountain restaurants with more charm and charisma than those in many purpose built resorts.

Where to go?
With more than 21 Alpe d'Huez and Vaujany mountain restaurants on and off the pistes you are spoilt for choice. There is of course the full monty three course, truly delicious, wine fuelled terrace lunches that put a dent both in the wallet as well as the afternoon's skiing plans. But we are also blessed with plenty of great food restaurant-chalets to choose from - the kind of places the instructors and guides take their clients to; simply good value, tasty fresh food.
Here are some of our favourite Vaujany/Alpe d'Huez mountain restaurants - we can of course make reservations for you each day and will be happy to do so...
---
La Grange, Alpette 
Delicious pizzas cooked on a wood fire and just a short walk from the cable-car station - perfect to meet other members of the family who are non-skiers. There is also an area for tobogganing just beside the restaurant and the tiny 'lama' button lift - a favourite for beginners.
---
Auberge de l'Alpette - Chez passoud, Alpette 
You are assured of a warm and friendly welcome from Martine Passoud and her family. Just near the start of the run down to Oz and beside the short l'Alpette button lift, the terrace has spectacular views across to the Belledonne Mountains and to the valley floor below.
La P'Oz Chez Passoud, Alpette
Located at the crossroads of the slopes of the Alpette, on the cross-country ski loop and pedestrian walks winter and summer, this brewery and snack in winter and traditional restaurant in summer; offers a breathtaking view of the mountains of Oisans.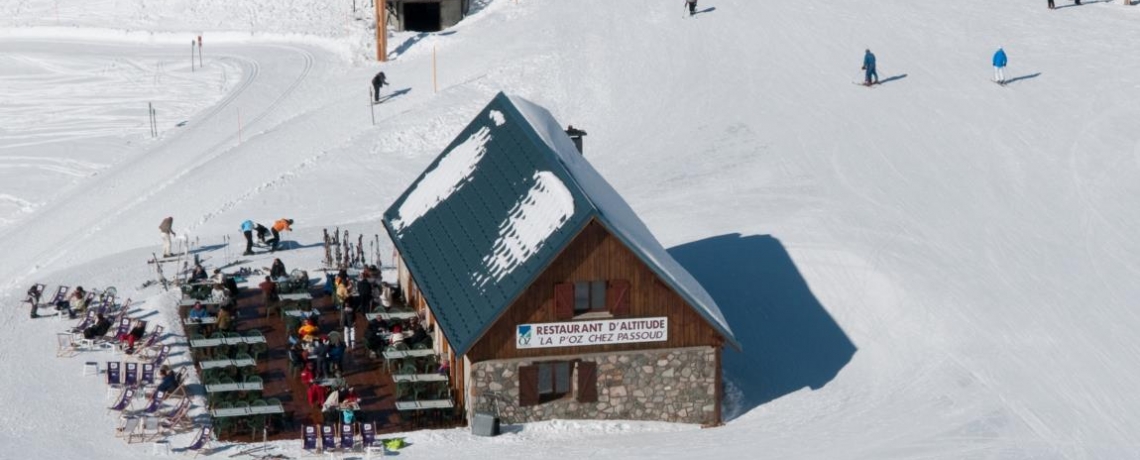 ---
Les Airelles, Montfrais 
Pascal and Natalie Basset, long-time owners of La Remise in Vaujany, have taken over Les Airelles and promise to provide a first-class service at this popular, well situated mountain restaurant. A perfect spot for lunch if your children are in ski school and also for a late afternoon sun-downer on your way home.
---
Le Petit Truc - Montfrais
Small chalet at the top of the gondola Montfrais, the restaurant is accessible for pedestrians and offers a pleasant terrace.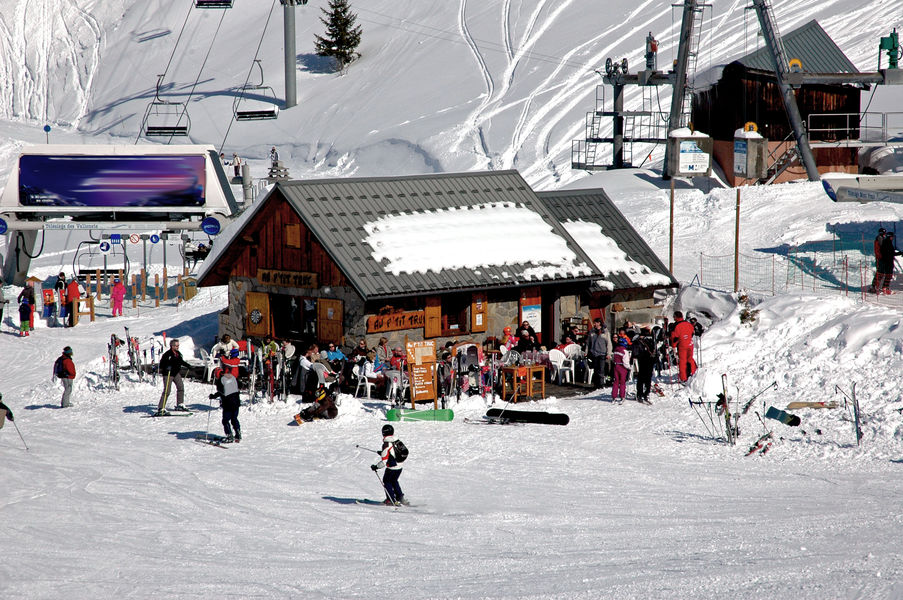 ---
La Vaujaniat, Montfrais
This is what you see is what you get typ place.  It's nothing special but it has a great beer terrace where you can watch skiers descend the slope. The local ESF feed kids here if they are in lessons all day so best to avoid this for an early lunch.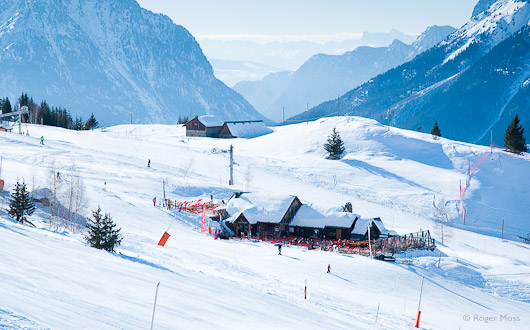 ---
Le Perce Neiges, Oz
Located at the bottom of the Combe de Poutran, cosy around the fireplace and enjoy some warming local specialties, or sit out on the sun terrace and enjoy the lovely mountain views.
The dish of the day will be around €14 and there is a children menu available. Try their andouillettes, the profiteroles or the special Perce Neige cake.
Ski to the restaurant by heading down the Combe de Poutran. Open in the winter season only, every day from 11:30 to 15:00.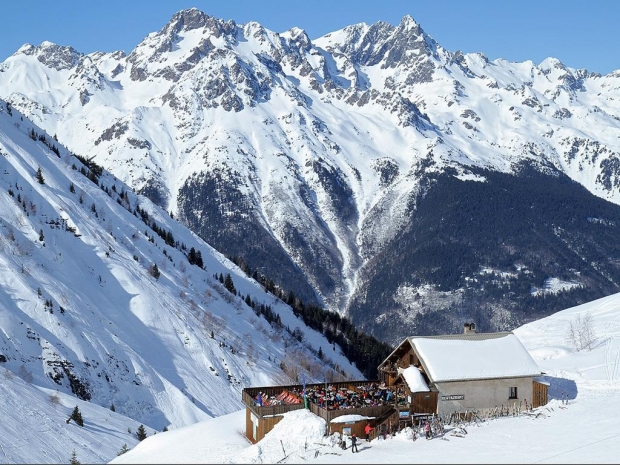 ---
Le Chalet d'Oz, Oz
On the Olmet trail, in a 2100-Oz station axis, this small mountain-style restaurant is leaned against the superb Belledonne mountain. Warm welcome, specialties to discover in a quiet location along the track. Comfortable indoor room heated by the traditional wood stove. On the terrace, enjoy the sun and the magnificent view of the mountains. Once a week, an evening is organized.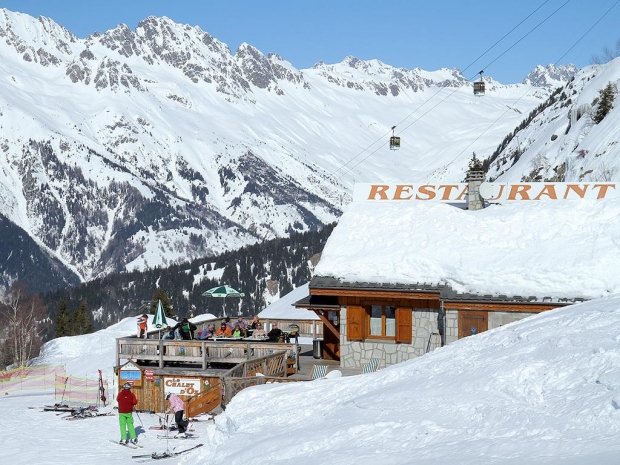 ---
La Ferme d'Oz, Oz
Located at the foot of the slopes, the two large terraces are ideal to relax during lunch. The Inside decor is classic cosy restaurnat with a mountain style dining room upstairs for a great atmosphere.
There is a self service sectoin but we recommend the full à la carte, experience!
.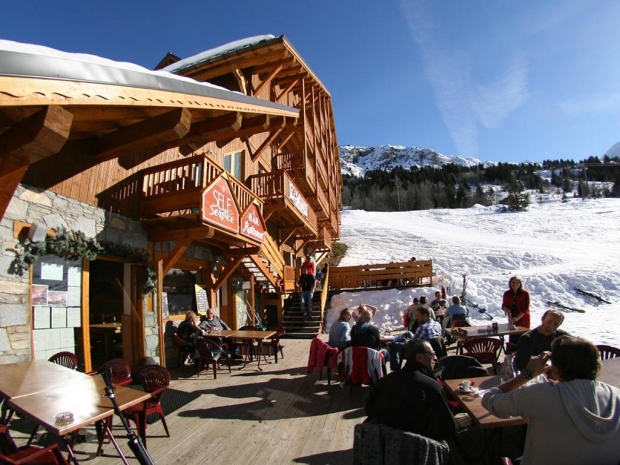 ---
La Fruitiere (Folie Douce), Alpe d'Huez  
This restaurant has rejuvenated what was a self service restaurant. It has three areas which you will be very aware of if you arrive after 14:00.
1.Inside as you enter is a well decorated and practical self service area with comfortable dining facilities and reasonably priced food.
2.Through the back is a restaurant where we have experienced great customer service, food and atmosphere.
3.The apres bar outside will have you dancing even if you don't want to. Prepare yourself for live singing, saxaphones and dancers to get you in the mood.
---
Chantebise 2100 (DMC), Alpe d'Huez
The hefty menu has all the alpine favourites of cheese and meat combinations including croque monsieurs, tartiflette, burgers, pizzas and salads. The calzone and montagne croque monsieur (raclette cheese) were our top picks after an active morning ski.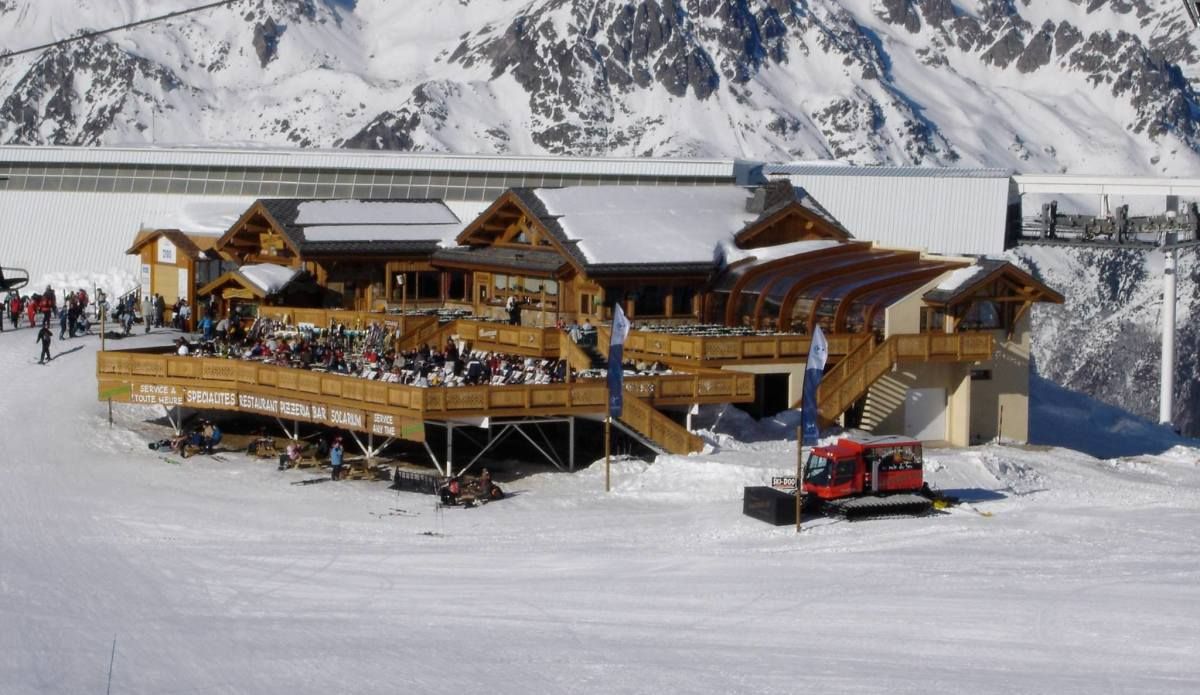 ---
Le Chalet du Lac Besson, Chamois
This beautifully furnished chalet restaurant is situated in an idyllic location off the beaten track in the middle of a cross-country circuit (approached down a path branching off from the Chamois piste). Very peaceful and serene, away from the crowds, with first-class service and excellent cuisine including fire-grilled meat and regional specialities. It is chic and stylish and always a treat
---
La Plage des Neiges, Alpe d'Huez
You can really enjoy a mountain side meal here.  Spacious indoor restaurant with a huge window running the length of indoor area; on the terrace or even in some stylish private pods (need to book).
Located on the easier, gentler slopes the restaurant is easily accessible for all levels of skiers and is set away from the crowds... it's actually hidden a bit so only those in the know go here!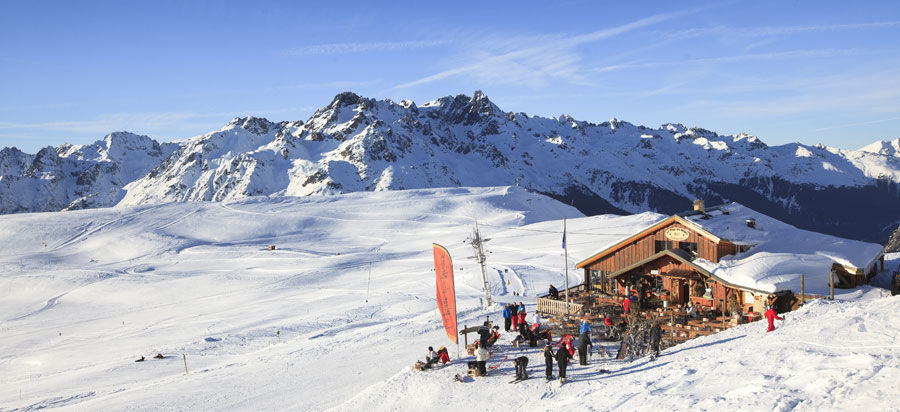 ---
Restaurant l'Altiport, Alpe d'Huez 
At the little airport and easily approached down a path that cuts across to the left as you start the last pitch down to the Marmottes bubble. Small inside but a spectacular terrace overlooking the tiny airstrip and magnificent mountains beyond. Enjoy cuisine and watch the planes and helicopters landing and taking off.
---
La Cabane, Alpe d'Huez
This traditional wooden alpine style restaurant is located in the Les Bergers ski area. Boasting a large terrace with panoramic views, they serve traditional French dishes. 
With wonderful views over the mountains and a south facing terrace that will protect you from the wind you can enjoy a meal outside on the terrace or inside the cosy Alpine restaurant. Specialities include beef with morels and gratin, risotto or brioche with caramel sauce.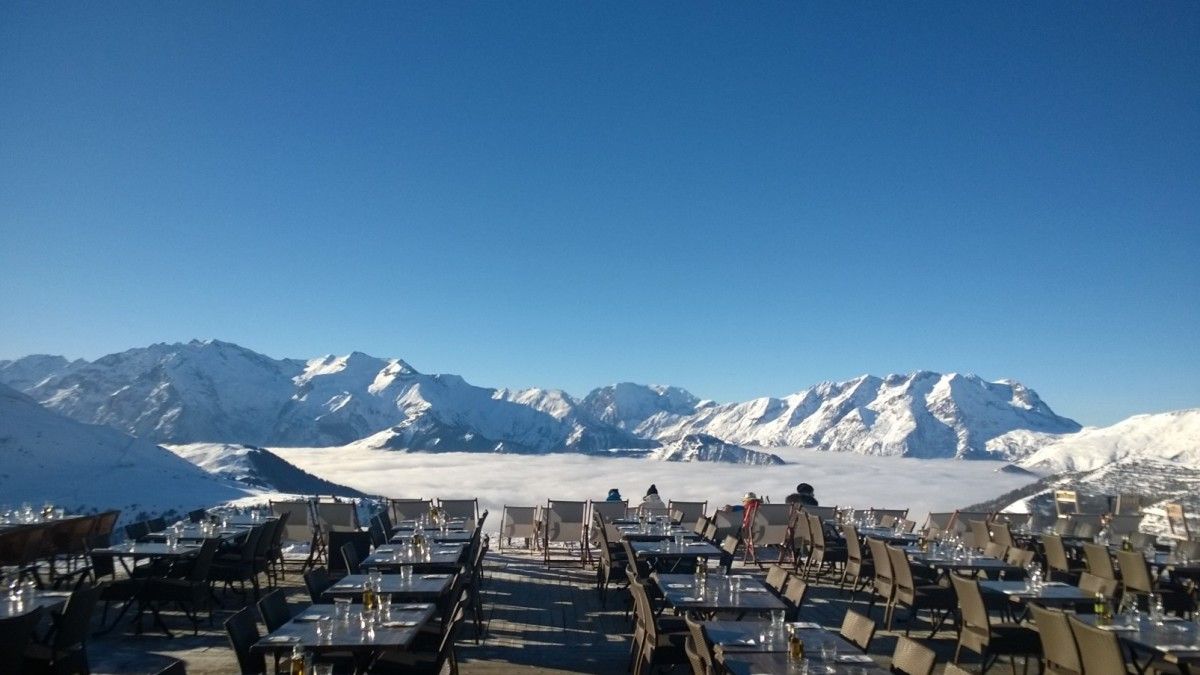 ---
Signal 2108, Alpe d'Huez 
Located at the Sommet du Signal you can enjoy a traditional French Savoyard meal in the heart of the Alpe d'Huez mountains along with one of the best lunchtime views of the surrounding mountains in the whole resort
You can enjoy a long lunch in first-floor restaurant, or grab a quick bite to eat at the self-service/fast food style restaurant downstairs. 
Open throughout the winter season, booking is recommended during peak season.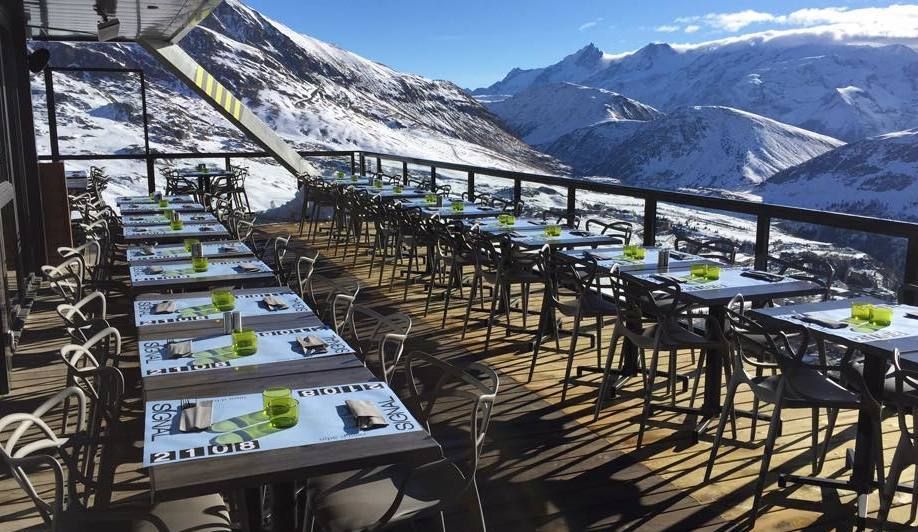 ---
La Taburle, Alpe d'Huez
Situated at the bottom of the Signal and DMC you can easily meet up with people who don't know the area well. Enjoy a typical mountain menu of salads, soups, snacks, pasta, local specialities, sandwiches and more. 
They have a large terrace and restaurant area where you can soak up the sun and enjoy the ample portions and they can seat up to 300 people! 
This is also a good little apres bar if you are able to stay in Alpe d'huez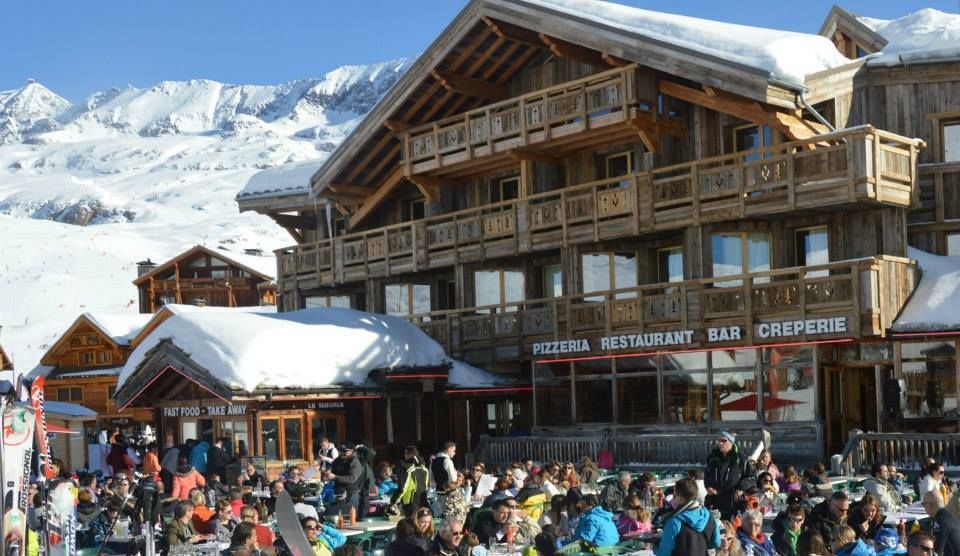 ---
La Bergerie, Villard Reculaz
Situated in the beautiful and secluded Villard-Reculas area. Enjoy local and traditional cuisine along with a delicious dessert. 
You can choose to sit outside and enjoy the lovely mountain views or cosy inside the restaurant and enjoy the warm and friendly atmosphere. We recommend the plat du jour here for lunch and a hot chocolate for a pit stop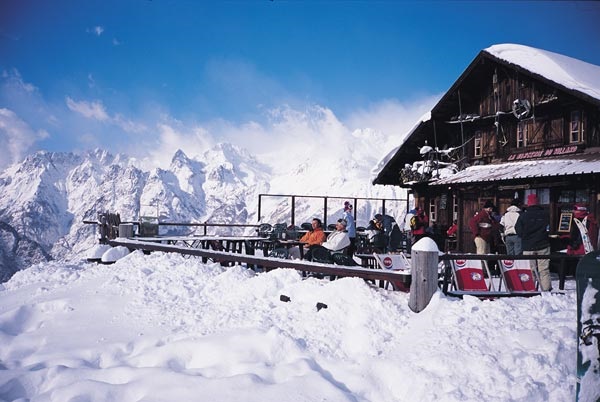 ---
La Combe Haute, Gorge de Sarenne  
Set beside the stream and amongst trees in a very pretty location this lovely mountain restaurant is always a pleasure to reach after a long, beautiful Sarenne descent. It is always warm and cosy inside, and later in the season the terrace is bathed in sunshine. This is our favourite by a very long way & a must for the late afternoon. 
---
Le Foret de Maronne, Le Chatelard 
Great fun if you want to do a bit of 'travelling', this is tucked away on the edge of the forest near the bottom of the Maronne chair-lift. A beautiful location and absolutely idyllic on a sunny day. The 'plat du jour' is excellent value
---
La Bucherie, Auris
La Bucherie, a restaurant-bar at the foot of the slopes in Auris offers good snacks, specialities and a dish of the day for lunch.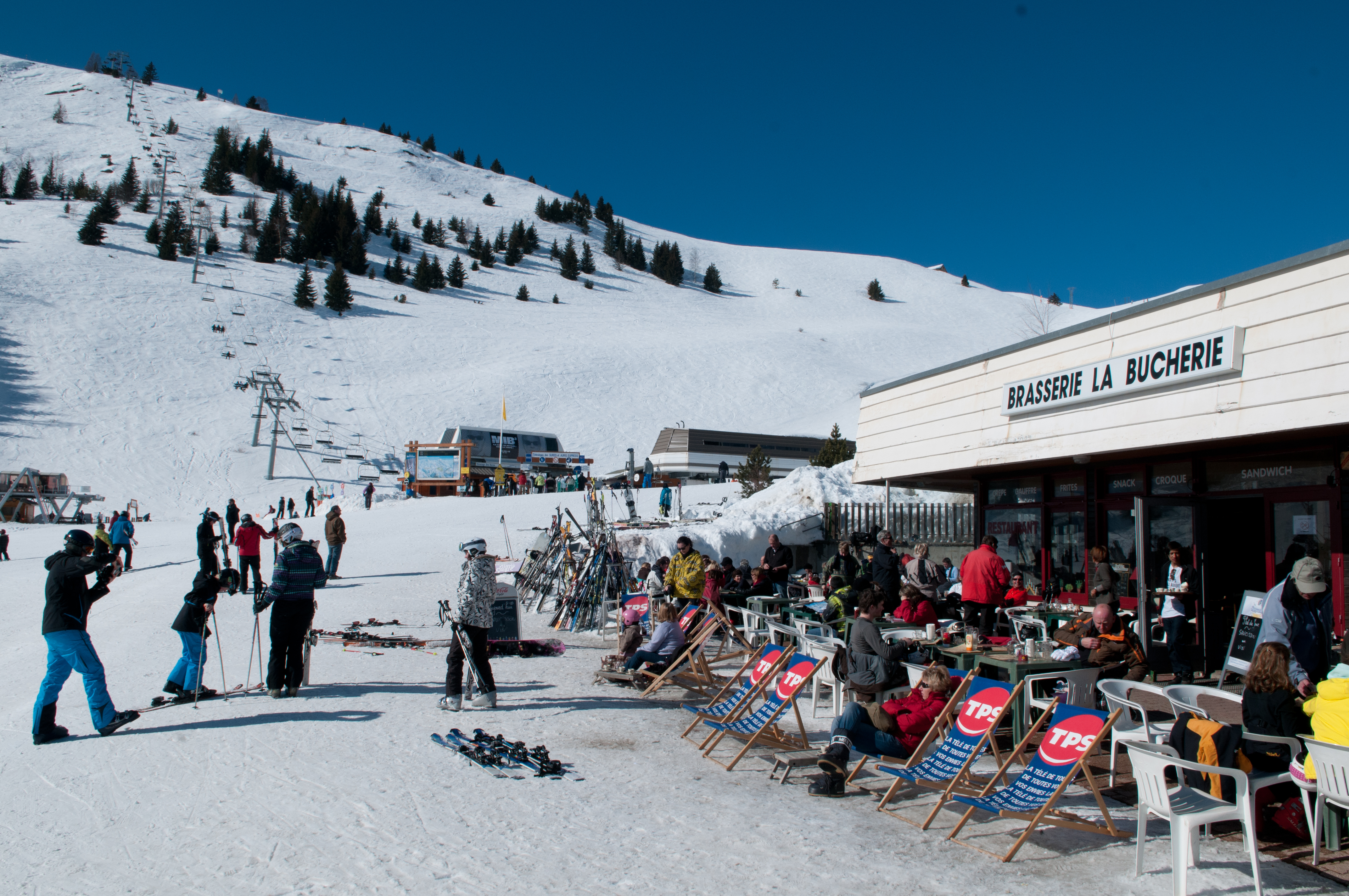 ---
On the slopes of Auris at the foot of the FontFroide slope.  This is good pit stop if you're looking for a beer and snack and to soak up the sun.